Over the next few weeks, we'll be letting some of our customers take over the blog to talk about how they use their favorite SparkFun tools and products in their projects, businesses and everyday lives. The best part? All the SparkFun items on their wishlist will be on sale today only!
Ron Justin, cofounder and CEO of GroupGets
Over the years, SparkFun has become our "Staples" for electronic gear at GroupGets. It's where we find ourselves grabbing the basics, like antennas, ESPxx Thing Wi-Fi boards, FTDI breakouts and rechargeable batteries with JST connectors. These items are not the new hotness in electronics, but they certainly help enable it. Below is a go at narrowing down our three favorite go-to's, in no particular order.
Ron's wishlist (on sale today only!):
Number one is the Sparkfun Third Hand Kit. On top of being well… handy, it was also designed by a friend and former colleague of mine, so that's an added bonus. "Helping hands" rigs are ubiquitous to hold your boards for soldering, but the Third Hand Kit has more flexibility and a wider range of motion than the standard options, and doesn't have that funky magnifier to get in the way. Crafty veterans prefer to wear a magnifying visor instead anyway. High-five to Ryan Straughn for creating this super useful and clever system, just one of many in his bag of tricks.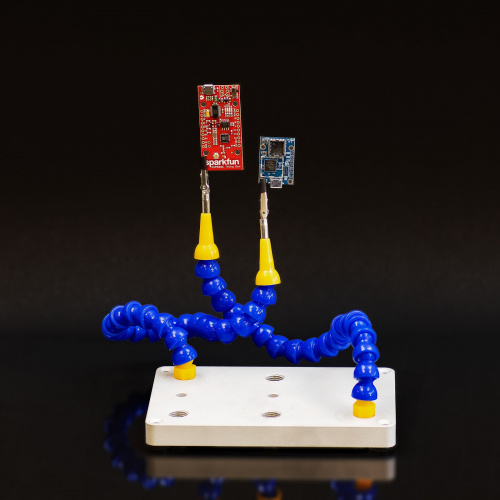 Next on the list is the SparkFun ESP8266 Thing Dev Board. It's dirt simple to connect up a sensor to it and stream its data to the web. What we really appreciate about it are SparkFun's quick and easy tutorials to get up and running quickly with it, like this one. This also makes us comfortable giving them out to students and budding engineers when we moderate hack-a-thons, to make their first edge-to-cloud experience as painless as possible. There are multiple versions of the Thing for your ESP of choice, but we love how single-purpose they all are. Many hardware developers get intimidated by cloud apps but the Thing greatly reduces the angst when wanting to get your data online for a demo or proof-of-concept.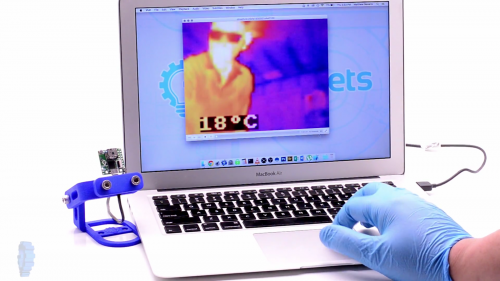 Last but not least, with just a dash of an obligatory shameless plug warning, we obviously use the GroupGets PureThermal 2 FLIR Lepton Smart I/O Board (aka "PT2") on the daily, since we designed and produce it. The goal of PT2 was to make application development with the FLIR Lepton LWIR core simple by putting an STM32 on board to output thermal video as a USB video class (UVC) stream. With PT2, you don't need any other board to see its video output; just plug it into a USB port on any macOS, Linux or Windows computer. You can view its video with most open source video viewers like VLC or our own open viewer, GetThermal. Whether we are putting PT2 in some strange test scenario for a customer, adding new features to its firmware or making 3D-printed cases for it, you will often see its thermal video output on some screens at our HQ.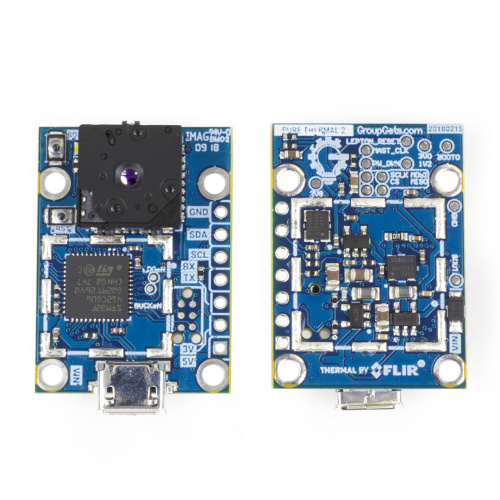 SparkFun was our first ever distributor years ago for what we called the "classic" FLIR Lepton breakout board, which we also designed and later licensed to FLIR. It's the same board used in the FLIR Radiometric Lepton Dev Kit, and requires an external development board like a Raspberry Pi to operate. Both boards have their unique place in the evaluation and app development process with Lepton, and many professional developers use both.
So there you have it – a brief glimpse into what's inside those red boxes on the shelf at GroupGets.